February 2019 - 120 Chanterlands Avenue, Hull
Prominently situated on a very busy and well known retail location, West Hull. Active and affluent residential community, with commercial and student trade locally.High density of surrounding residential properties.Property is in excellent condition. Property at...
February 2019 - Ocean House, Priory Park, Saxon Way, Hessle
Impressive office building with 182.9 sq m (1969 sq ft) on two floors.High quality distinctive unit in strategically important location.Easily accessible alongside the Clive Sullivan Way A63.Contemporary and imaginative design provides open plan suit...
February 2019 - 9 Grammar School Yard, Hull
Excellent second floor office in the heart of Hull's Old Town business district. 30.19 sq m (325 sq ft) open plan.Double glazed, fully furnished, heated and carpeted throughout and electronically controlled entry system. Lightstream available...
January 2019 - Unit 1B Pocklington Industrial Estate, Hampden Road, Pocklington
Established well known business location. Close to new roundabout junction with A1079.Mains services including 3 phase electricity.Large shared forecourt with parking.Range of tenancy options. Unit 1B let at undisclosed rental.
January 2019 - 241 Hessle Road, Hull
No.241 Hessle Road is a retail floor with disabled WC and kitchenette.Prominently situated on established parade occupying a visible corner position. Suitable for a variety of uses, subject to Planning.Competitive rental terms available for Tenants...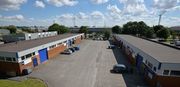 January 2019 - Unit 11A Gothenburg Way, Sutton Fields Industrial Estate, Hull
Industrial unit available on flexible terms.Competitive rent.Site as a whole offers three phase electricity, gas/telephone lines in most units.Within secured fenced site with good on-site car parking.Immediate occupation available.Let at undisclosed rental.
January 2019 - Peninsular House, Hesslewood Country Office Park, Hessle
Excellent location just 5 miles from Hull City Centre.Located just off the A63.Plentiful designated parking.Purpose built Grade A office space with high quality finish throughout. Let at undisclosed rental.
January 2019 - Unit 1A Rawcliffe Road Industrial Estate, Lidice Road, Goole
Prominent position, just off M62.Unit 1A has a gross internal area of 1495 sq ft (138.8 sq m).Car parking spaces included.3 phase electricity supplied.Immediate occupation usually available.Let at undisclosed rental.
January 2019 - 144 New Bridge Road, Hull
Well located on busy link road in east Hull.Ground floor area of 531 sq ft / 49.4 sq m.Suitable for many retail uses, subject to any necessary Planning Permissions.Let at undisclosed rental.
December 2018 - 31 Percy Street, Hull
Easy access for all area of the City.Suitable for a wide variety of uses subject to the necessary Planning Consent.Total area of 823 sq ft / 76.46 sq m.Let at undisclosed rental.
December 2018 - Former Fry's, Hutton Cranswick Industrial Estate, Hutton Cranswick
Large building with storage and offices, Hutton Cranswick Industrial Estate.Very popular industrial estate on the A164 Beverley to Driffield Main Road.Prominent and secure site to the front of the Estate.Long and extensive display to...
December 2018 - Walker Buildings and Land, Carnaby Industrial Estate, Bridlington, YO15 3QY
Very large, multi-pitch, industrial unit of 81,445ft² / 7,566.5m² with offices and stores.Separate mono-pitched, steel clad rear unit of 3,470 ft² / 322.4 m²Large surfaced & fenced rear land area of 3.0 Acres 1.21...